Specifications of Folic Acid(vitamin B9)
| | |
| --- | --- |
| Product Name | Folic acid |
| Chemical Name | N-4-[(2-Amino-4-oxo-1,4-dihydro-6-pteridine)methylamino]benzoyl-L-glutamic acid |
| Other Names | Vitamin B9 |
| CAS | 59-30-3 |
| Molecular Formula | C19H19N7O6 |
| Molecular Weight | 441.40 |


Structural Formula of Folic Acid(vitamin B9)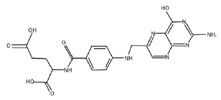 Properties of Folic Acid(vitamin B9)
This product is a yellow or orange-yellow crystalline powder; odorless and tasteless. Insoluble in water and ethanol; easily soluble in dilute solutions of sodium hydroxide or sodium carbonate.


Project Indicators of Folic Acid(vitamin B9)
Contains     amount(%)

95.0~102.0

Moisture(%)

≤8.5

Residue on ignition

(%)

≤0.5


Application of Folic Acid(vitamin B9)

Feed additives, food additives, in line with the pharmacopeia USP28/BP2003


Packing and Storage of Folic Acid(vitamin B9)
Packing specifications: 10kg/carton, 20kg/drum, 25kg/drum, 10kg/drum.
Storage: Store in a cool and dry place, away from light.
Shelf life: The shelf life is three years. Use as soon as possible after opening to avoid deterioration.